Location Advantages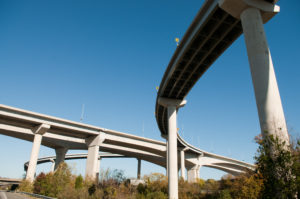 Strategically located at the center of the East Coast, the Gateway Region provides easy access to the world's largest markets. With an impressive interstate network, over 40% of the U.S. population is within one-day's drive. Working globally? The East Coast's deepest natural port and three international airports are all less than 2 hours away.
---
Transportation Infrastructure
With four major interstates, two Class 1 rail providers, multiple airports and quick access to the East Coast's deepest natural port, markets all over the world are within reach of the Gateway Region.
Highways
Interstates 95 and 85 intersect in the City of Petersburg. I-95 is the primary north-south highway serving the most populated cities on the East Coast from Maine to Florida. I-85 originates in Petersburg, running southwest through Charlotte and Atlanta to the Gulf Coast.
Interstate 64 is a major east-west corridor from Hampton Roads (the Port of Virginia) through Richmond and into St. Louis, Missouri.
Interstate 295 provides a bypass option for traffic changing in between Interstates 95, 85 and 64.
U.S. 460 is a four-lane highway running east-west with nearly straight line access to the Port of Virginia and industrial sites along the route.
Rail Service
With service from both CSX and Norfolk Southern, the Gateway Region has railroad access running both north to south and east to west.
Double Stack rail route provides 2-day trip from the Port of Virginia to Chicago
Rail-sided sites available across the region
At least six intermodal sites are positioned in the region (half of all facilities in the entire state are clustered locally)
Ports
The Port of Virginia is the deepest natural Port on the East Coast. With the recent expansion of the Panama Canal, the Port of Virginia accommodates the world's largest vessels, with further expansion plans currently underway.
78 miles/1.5 hours to reach terminals in Norfolk, Newport News and Portsmouth
Channels over 50 feet deep accommodate the largest modern transports
36,000 linear feet of tracks with two Class 1 railroads operating on-dock including double stacked rail service nationwide to and through the region
Richmond Marine Terminal located on the region's outskirts, approximately 19 minutes from Petersburg on I-95

Direct I-95 access
Barge service three times weekly to and from the Port of Virginia
25-foot channel depth
On-site warehousing, cranes and railroad access
Airports
Richmond International Airport (RIC) offers nonstop flights to major domestic destinations and easy access to global destinations. More than 3.5 million passengers travel through RIC annually and growing.
Dulles International (IAD) and Reagan National (CDA) located two hours from the region in Washington, D.C. offer direct national and international flights to all destination worldwide. Air taxi service available from Dinwiddie County Airport.
Chesterfield County Airport, Dinwiddie Airport and Wakefield Municipal airports offer general aviation, charter and flying services with fully-equipped and –staffed maintenance hangars.