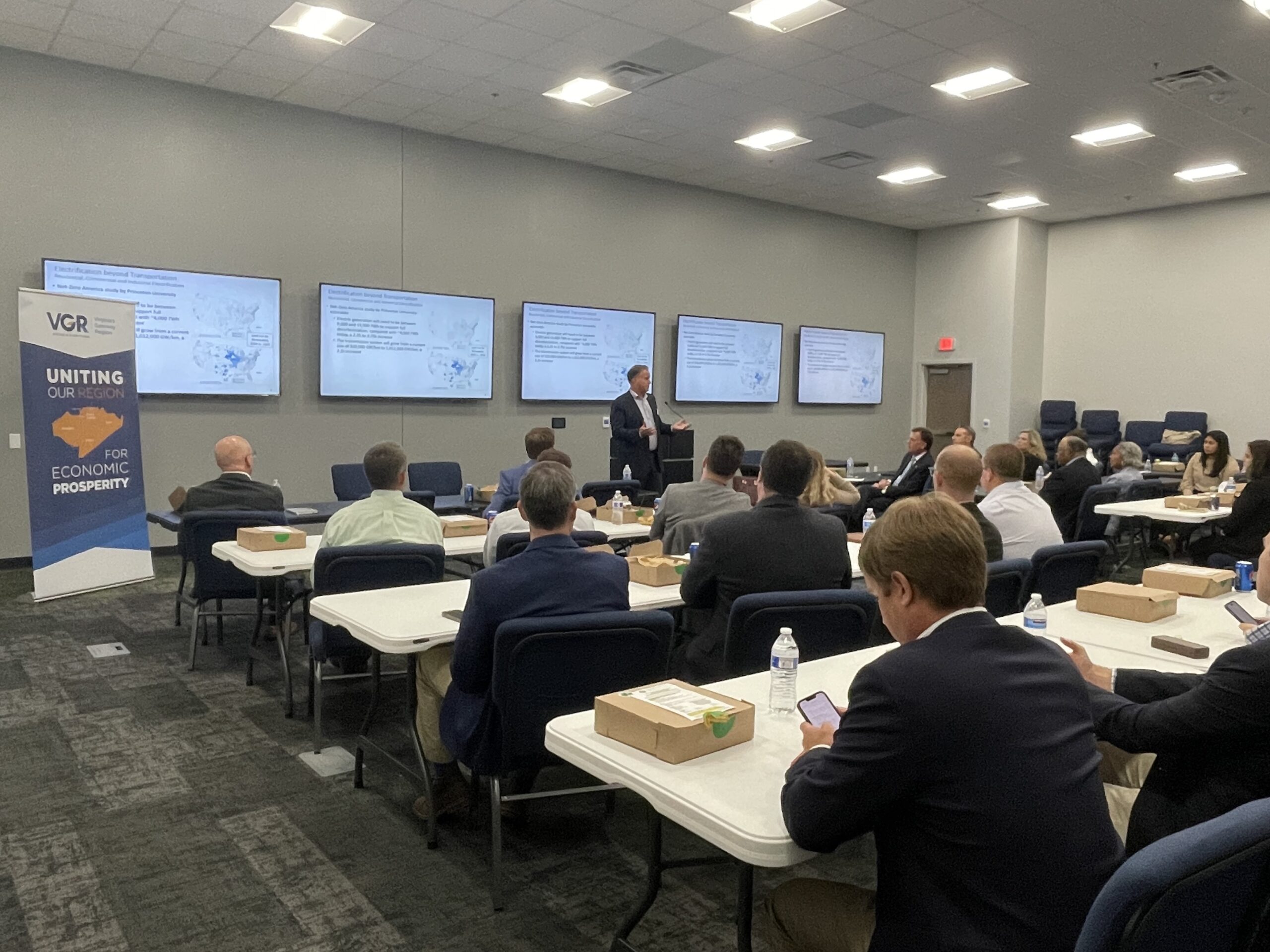 In the dynamic landscape of the energy sector, the adoption of alternative energy solutions isn't just a choice; it's a requirement. This was emphasized by Mark Webb, Petersburg native and Senior Vice President and Chief Innovation Officer at Dominion Energy, during his compelling presentation at the September VGR Business Council meeting at the company's Dinwiddie campus. The energy industry is undergoing profound transformations that demand innovative approaches and a sustainable mindset. Webb's insights, shared across various dimensions and shared below, shed light on the pivotal factors shaping the industry's trajectory.
Innovation and Distributed Resources
The journey of innovation at Dominion Energy emerged from the guidance of former CEO Tom Farrell. He championed the prioritization of innovation in response to the sweeping changes reshaping the energy sector. The innovation team at Dominion Energy has zeroed in on four key drivers of the energy future: the rise of distributed resources, zero-carbon mobility, using data and computing power as a resource, and the interlock between energy and sustainability. While the energy sector, much like other industries, has experienced seismic shifts driven by various factors, the focus isn't solely on technological progress but also on sustainable practices. As Webb succinctly puts it, "The combination of the two together [technology and sustainability] creates a lot of change, and with that comes the need for more electricity."
The escalated use of distributed energy resources, including solar panels, batteries, and microgrids, is another significant trend that Webb explained. This trend is redefining the conventional one-way energy grid into a dynamic two-way system, facilitating the flow of power in multiple directions. Innovations like smart thermostats, energy-efficient appliances, and even upcoming solutions such as electric stoves with embedded batteries are contributing to this shift. "When we talk about distributed resources, what was once a one-way grid - us generating power in huge facilities and sending it out - it's becoming two-way and that creates all sorts of new investment needs," Webb explained.
Increased Energy Demands
The convergence of data and energy efficiency is increasingly apparent as we dive deeper into the era of artificial intelligence (AI) and data processing. The exponential growth of data and computational power demands substantial electricity consumption, particularly in large data centers. With data-driven technologies on the rise, the energy sector faces the challenge of accommodating these demands while maintaining sustainability and cost-efficiency. "The amount of data that's available and being processed and run is creating the need for these massive data centers like what we've seen in Northern Virginia. In Mecklenburg with the Microsoft data center, with Facebook in Henrico, and they're across the country but primarily a huge percentage of them are in Virginia," Webb expressed. "They use an enormous amount of electricity and it's growing."
The dire need of sustainability resonated throughout Webb's presentation. He emphasized the need for cleaner, greener energy sources as companies, policymakers, and individuals strive for sustainable practices. "The electricity that we deliver to people has to be as clean as possible," said Webb.
With changing consumption patterns and the electrification of various sectors on the horizon, the demand for electricity is set to continue surging. Addressing this demand while mitigating emissions has become a leading mission for Dominion Energy.
Small Modular Reactors and Hydrogen
This charge includes the diversification of energy sources. Webb delves into the pivotal role of small modular reactors (SMRs) in this endeavor. These cost-effective nuclear reactors offer a promising alternative to conventional large-scale nuclear plants. SMRs possess the potential to provide consistent electricity without the high upfront costs associated with traditional nuclear plants. Dominion Energy has taken tangible steps toward developing SMRs, with Governor Younkin also endorsing their implementation in the Commonwealth. As Webb articulates, "When you look at the numbers, it's hard to imagine generating 24/7 electricity in the future without the growing component of new investment in nuclear."
Webb also underscored the importance of hydrogen as a viable alternative energy source, especially in sectors that are challenging to decarbonize, such as heavy-duty transportation. The drive towards green hydrogen emerges as a potent pathway for curbing carbon emissions in sectors where electrification faces limitations. Dominion Energy's sponsorship of the National Capital Hydrogen Center reflects their commitment to the development of a hydrogen ecosystem across Washington D.C., Maryland, and Virginia. This initiative not only aims to facilitate collaboration among various organizations but also seeks to integrate hydrogen solutions into America's clean energy future.
Overall, extensive changes are happening across the energy landscape, demanding a proactive response. As electricity demand continues to surge and consumption patterns reshape, implementing new energy sources and adaptive technologies is inevitable. This progressive stance becomes the linchpin of a successful strategy that harmonizes reliability, sustainability, and affordability within the energy sector.