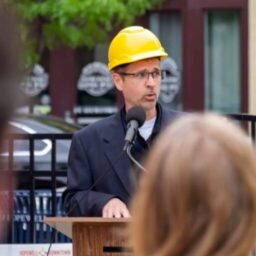 Charles Bennett, an experienced professional in commercial real estate development and project management, has taken on the role of Economic Development and Tourism Director for the City of Hopewell. With over 20 years of commercial real-estate project management and development expertise under his belt, Bennett, a native of Hopewell, is thrilled to play a crucial part in executing the city's strategic plans for economic growth, increased opportunities, and an improved quality of life for its residents. In an interview with VGR, we explore the exciting economic development movement that Bennett is spearheading in Hopewell.
According to Bennett, Hopewell's most promising approach in attracting businesses lies in effectively telling their story. "I think it's very important that you tell your story. If you don't, either nobody else will tell it for you or they're not going to get it right," Bennett emphasized. One significant aspect of this narrative is showcasing Hopewell's city park and Riverwalk as a destination for families. Additionally, promoting tourism towards downtown businesses and highlighting Hopewell's rich historical heritage of several people groups including, Indigenous Native Americans, African-American, various other immigrant groups cultural influence. Historic Preservation projects are crucial chapters in the story that Bennett tells.
When discussing a successful project that has positively impacted the community, Bennett highlights the recent Business Pitch Competitions hosted by the Hopewell Downtown Partnership and made possible through the Department of Housing and Community Development's Community Business Launch (CBL) grant program. "Both Artisan Alley and City Point Ice Cream and Burgers are examples of recent successful homegrown businesses," Bennett proudly stated. He also mentions a business preservation project involving one of Hopewell's manufacturers. When the Custom Comfort by Winn Mattress factory burned down, Bennett swiftly assisted them in securing another location in the City. Within a month and a half, the family-owned small business was back up and running, preserving local jobs and economic activity.
Bennett ensures that Hopewell's economic development efforts align with the goals and priorities of the City by emphasizing a unified vision. "All of us are working with one vision, which is to execute the comprehensive plan," Bennett explained. The 10-year comprehensive plan, adopted by the city council in 2018, is currently undergoing tweaks and revisions in its fifth year. Bennett also recognizes the importance of adapting to changing circumstances, citing the unforeseen challenges brought about by the pandemic and subsequent shifts in consumer behavior, business practices, and employment trends.
As part of this adaptive approach, Bennett prioritizes economic development efforts for future industries. He expresses great enthusiasm for the developments taking place in the pharmaceutical sector, highlighting the potential benefits for Hopewell's economic growth. With a strong chemical manufacturing base already established, Bennett aims to support the region's pharmaceutical manufacturers. Furthermore, he sees great potential in positioning Hopewell as a hub for higher education research and development, particularly in fields such as microbiology, advanced chemical engineering, and advanced manufacturing. Bennett believes that the city's industries and environmental impact story make it an ideal location for research, development, and education, which would significantly contribute to the local economy.
One of Hopewell's greatest attributes, according to Bennett, is its exceptional location and infrastructure, "There's absolutely no other location in the area where you have so much access to the waterways. It's the perfect place to work, to play, to innovate, and to live," he expressed. Combining these advantages, Hopewell offers unique opportunities for industrial activities that are unparalleled in other locations. The City boasts robust water supply and water treatment facilities, natural gas service and electrical power generation that are not easily replicated elsewhere.
Bennett credits listening as his top tool for collaborating with local businesses and industries to identify their needs and support their growth. During his initial months in the role, he embarked on a comprehensive listening tour, meeting with community stake holders, business owners and industrial manufacturers. Through these conversations, Bennett gained invaluable insights into the concerns and requirements of the local business community. Workforce development, housing and associated amenities, talent attraction, and investing in the city's appearance emerged as prominent themes. Bennett stresses the importance of self-investment, recognizing that if the City must continue to invest in itself, in order to expand the momentum of private investment. To stay focused on the most impactful areas for economic growth in Hopewell, Bennett maintains a visible target list in his office, serving as a daily reminder of where to direct his efforts.
Charles Bennett's leadership in economic development and tourism is bringing new vitality to Hopewell. With his wealth of experience, collaborative approach with VGR and neighboring localities, and strategic vision, Bennett aims to unlock the City's full potential, ensuring a prosperous and vibrant future for its residents and businesses