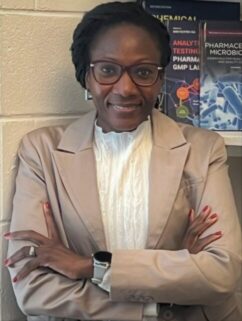 Brightpoint Community College is taking a significant leap forward with the introduction of a cutting-edge Pharmaceutical Manufacturing program designed to meet the growing demand in the Gateway Region. With a cluster of pharmaceutical companies investing in the area, the college is poised to become a leading provider of skilled labor to the industry. To learn more about this innovative program, we sat down with the head of the program, Dr. Cornelia Kavungo-Johnson, an esteemed professional with more than 15 years of experience in the field.
Since its inception in May 2022, the program has gained momentum, with the first class commencing in Fall 2022, consisting of six students. Now, in Spring/Summer 2023, the number of students has risen to 30, indicating the growing interest in the program. Dr. Kavungo-Johnson is confident that the program's comprehensive nature and practical experience provided to students will make it a success.
"The program's success is already evident as one area company recently hired half of the first class of pharmaceutical manufacturing students while they were still enrolled in the program," said Dr. Kavungo-Johnson.
Designed to equip students with practical skills and knowledge in chemical and pharmaceutical manufacturing environments, the program focuses on real-world applications of industry-related quality standards. This includes students frequently practicing these standards in the classroom and implementing principles of Good Manufacturing Practices (GMP) and Good Documentation Practices (GDP).
The pharmaceutical manufacturing program is a career studies certificate, requiring students to complete 17 credits. Students can finish the program in just two semesters, making it an attractive option for those looking to acquire the necessary skills in a relatively short amount of time. The program is inclusive and accommodates students of various educational backgrounds, ranging from high school students to those with master's degrees.
"This is the perfect time for people to jump in with this program. For people who have passion for helping others, this is the perfect time as we're trying to make better medicine that is affordable," Dr. Kavungo-Johnson exclaimed. "Now we can train them and the jobs are here, it's the perfect time to get the skills and training and be ready."
To learn more about the Pharmaceutical Manufacturing program at Brightpoint Community College, visit http://www.brightpoint.edu/pharma.