Military Expertise
The region is home to Fort Lee and Fort Pickett, major training facilities for branches of the military and commercial security; the Defense Logistics Agency Aviation, the Department of Defense's primary contracting and logistics organization for aviation; and numerous defense sector consultants that take advantage of the strategic location central to federal and naval resources. The combination of unique local training and proximity to top-level U.S. military activity and decision-making adds tremendous value to local employers in terms of skills, experience and discipline in the workforce. Most veterans who finish their service in the area choose to start a business or second career locally to enjoy the affordable cost of living, great schools and excellent housing that they and their families became accustomed to during their stay.
Fort Lee
The center of military activity in Central Virginia, Fort Lee has consistently been a Department of Defense priority in recent budget and resource realignments, enabling it to grow its economic and expertise contributions to the region. Each military base specializes in particular training, with Fort Lee preparing its personnel for careers in logistics, machinery operation and repair, and food manufacturing and preparation.
The Army Logistics University: Establishes Fort Lee as the army's logistics capital of the world through its training of military and civilian leaders at three colleges and an academy, including a new state-of-the-art learning center
Quartermaster School: Trains soldiers and develops doctrine for quartermaster skills and functions including general supply, mortuary, subsistence, water, energy, field services and distribution management
Ordnance School: Trains soldiers and civilians in technical skills and leadership to provide effective support for maintenance, munitions and explosive ordnance functions for the Army
Transportation School: Provides the capability to rapidly distribute and deploy forces, equipment and materials
Joint Culinary School: Trains soldiers to manage all aspects of food systems including: food planning, menus, nutrition, rations, regulations, procedures, safety and dining facility design. The school has even gained notoriety among the Food Network fan base by holding the largest annual American culinary competition
Garrisons: The Army, Air Force and Marine Corps maintain detachments at the post
Top Military-Trained Occupations in the Region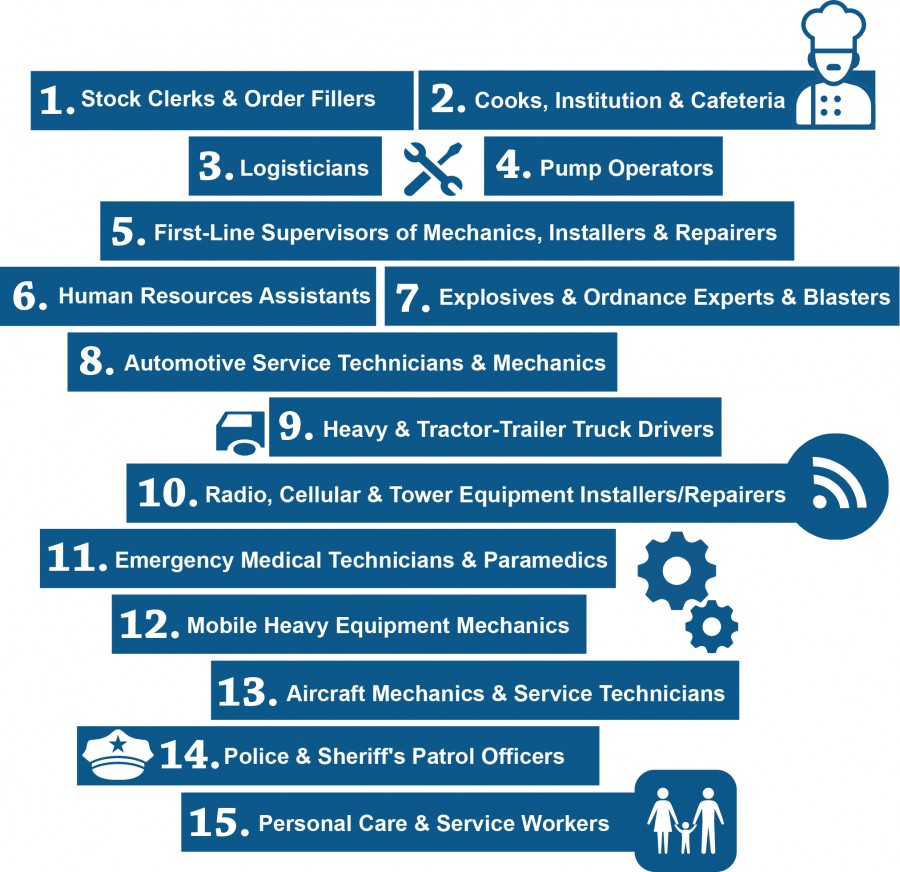 Sources: U.S. Department of Defense; Chmura Analytics, 2014; latest data as of May 2016
2015 Fort Lee Stats
26,438 total supported on-post population (14,101 military + 7,968 civilian + 4,369 dependents)
56,521 off-post population
Average Daily Students: 10,415
Download Fort Lee Fast Facts
Source: Fort Lee Public Affairs Office; latest data as of May 2016
Fort Pickett
Located just west of the region, the Virginia Army National Guard Installation contains over 42,000 acres of training grounds for maneuvers. Non-military organizations using the installation include the U.S. Marshals, the FBI and Virginia State Police.  Blackstone Army Airfield is also open for public use as Allen C. Perkinson Airport.
Defense Logistics Agency: Aviation
Also known as the Defense Supply Center Richmond, the Defense Logistics Agency supports and supplies over 1,300 major weapon systems, 1.3 million repair parts and other supply items for the U.S. armed forces' aviation equipment. The installation is 600 acres, with 120 buildings and more than 7 million square feet of storage space. In addition to its primary distribution depot activities, other tenant activities at the installation include:
Research & Resource Analysis: Analytical research capacity for decision making in supply, distribution, procurement and other disciplines
Distribution Mapping: Physical distribution of all maps, charts and geodetic material for the Department of Defense and military customers
Disposition: Disposing of excess military property by transfer to entities, surplus sales or other means
Document Services: Printing, duplication, conversion and distribution of digital documents
Military Proximity
Besides training 38 percent of the U.S. Army at Fort Lee, the region is centrally located between the second largest military employment region in the U.S. in Hampton Roads and the home of the Department of Defense in Washington, D.C. This allows the region to benefit from the advantages of proximity and sea access, contractors, major national infrastructure and government contacts and experienced and knowledgeable veterans looking for work, while escaping the population and traffic congestion disadvantages of both.